The Showcase Final for the Liverpool Acoustic Songwriting Challenge 2012 took place last night – Friday 23rd November – in front of a capacity crowd at the View Two Gallery on Mathew Street. The writers of the top ten songs, as judged by Stephen Langstaff and Kaya Herstad Carney, performed their songs with an image of their chosen work of art projected on the wall for everyone to see. We were also treated to short sets from each of our judges to start each of the two halves of the night.
The winner of the Judges' Award was Vanessa Murray with her song I Don't Wanna Lose You Like This. You can hear the song using the Soundcloud widget or if you want to see a copy of the lyrics and the work of art that inspired the song click the link here snd.sc/QCc7lD
The winner of the Audience Favourite was Steve Swinnerton and Dave Johnston with their song Face To Face as performed by The Midnight Waltz. Again, you can listen using the widget below or go to its page on Soundcloud here snd.sc/10MQlfL
The prize for each of the winning songs if to have them professionally recorded and videoed courtesy of Jon Lawton at Crosstown Studios.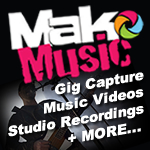 Last night's performances were recorded and filmed by the guys over at Mako Music, and we'll let you know once they're ready to be viewed.
The money raised from ticket sales and entry fees came to £365 which will be split between Marie Curie Cancer Care and Garston Animal Rescue, in memory of Sharon Jones.
Liverpool Acoustic Songwriting Challenge 2012 winners