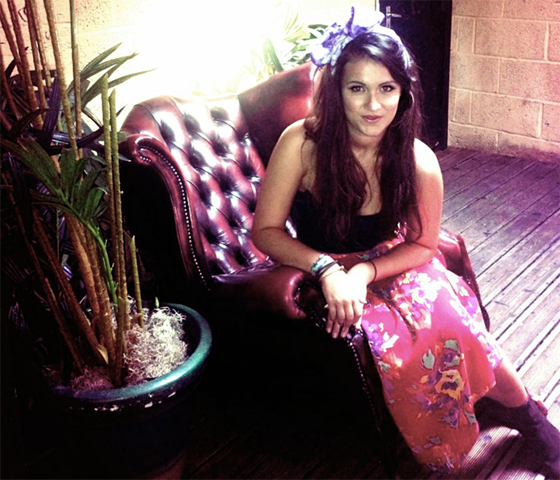 The Judges' Award for the Liverpool Acoustic Songwriting Challenge 2013 has been won by local singer-songwriter Alexandra Jayne. Originally from the West Midlands and now based in Liverpool, Alexandra was inspired to write her winning song '1969' by a painting of two people dancing.
Talking of her inspiration, Alexandra said "The painting reminded me of my grandparents, or a similar couple. The song is written from the perspective of either the man or the woman, reminiscing about the relationship they have had with each other and the night they first asked for a dance in 1969. The lyrics change in the last chorus where the partner asks to dance in this moment: 'won't you take my hand and have this dance like it's 1969', transporting them back to the moment where they first fell in love. I like to think that the couple are alone somewhere in a grand hall, and can imagine them slow dancing to the song itself."Alexandra Jayne's website is at 
www.alexandrajaynemusic.com
 and you can listen to the winning song at 
snd.sc/1erlYm3
---
The Showcase Final for the city's annual, unique challenge to songwriters took place last Friday 22nd November at Mathew Street's View Two Gallery where the ten finalists performed their songs with an image of the work of art that inspired it projected onto the wall for everyone to see.The evening was opened by a rare, solo performance from judge Stephen Langstaff. Fellow judge Kaya Herstad Carney also performed on the night and gave the audience an insight into her own songwriting process. Third judge Jon Lawton was in attendance, and once again provided the prizes for the winners.
---
JUDGES' AWARD
1st Place: Alexandra Jayne – 1969
2nd Place: Luke Moore and Muirann McDermott Long – Did I Try
3rd Place: SheBeat – Lonely At The TopThe prize for Alexandra Jayne is to have her song professionally recorded by Jon Lawton at Crosstown Studios.
---
AUDIENCE FAVOURITE
1st Place: Alexandra Jayne – 1969
2nd Place: Barry Jones – The Ballad Of George And Maude
3rd Place: SheBeat – Lonely At The Top
---
The song voted Audience Favourite on the night has since been withdrawn and the placings have been adjusted accordingly. The recording prize for the Audience Favourite category will be given to the second placed song written by Barry Jones.The songs in this year's Showcase Final can be listened to online in a SoundCloud playlist at snd.sc/1erdgUY
The other finalists were (in order of entry):-
Paul Robertson – Dream Dancers Dream
Lamentina – Paper Napkin Rose
Peter McPartland – The Fire In The Room
Derek King – Beautiful In Blue
Les Stamper – I'm Coming Back
The event raised £355 which will be divided between Marie Curie's Woolton Centre and Garston Animal Rescue in memory of Liverpool Acoustic team member Sharon Jones.
Liverpool Acoustic would like to extend their thanks to Vizea Sound who once again enabled those without access to recording facilities to enter the challenge by providing a free, no-strings recording for anyone who requested it. You guys rock! Check them out at vizeasound.co.uk
>>>
Alexandra Jayne wins Liverpool Acoustic Songwriting Challenge 2013